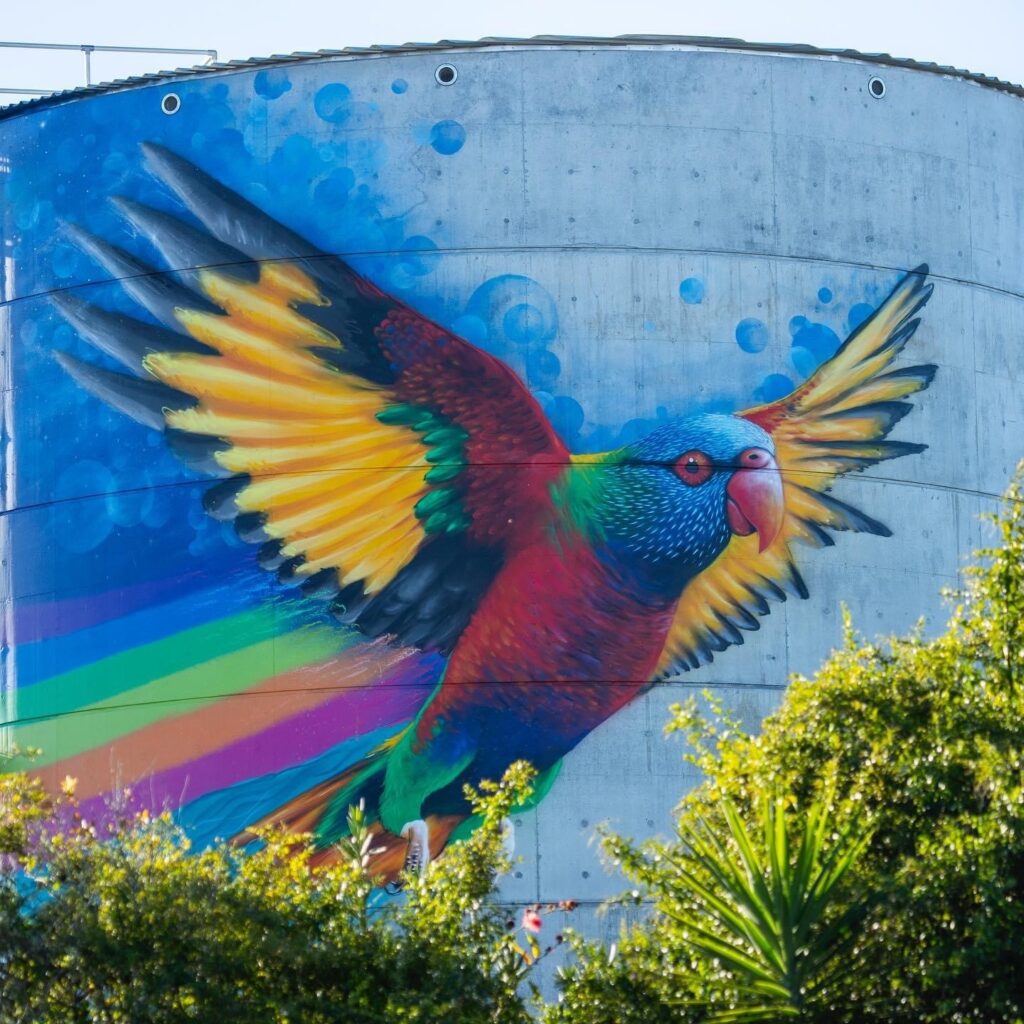 *Aboriginal and Torres Strait Islander readers are advised the following article contains the name and image of a deceased person.*
Greetings, art enthusiasts and travellers! Allow us to momentarily divert your attention away from our usual coverage of pristine beaches to embark on an urban art adventure.
Not only does the Clarence Valley boast breathtaking natural landscapes, but it's also a thriving hub for artists and art enthusiasts who believe in the power of visual storytelling through street art.
We've created a little road trip so you can explore the Clarence Valley street art on your next visit. Gather 'round, get a brew and let us immerse ourselves in the region's latest creative offerings.
Welcome to our open-air art gallery
Welcome to our region and to our open-air art gallery, where we celebrate community, and the region's vibrant history, and breathe life into static infrastructures.
*Apologies to the Lawrence Water tower, but we can't ignore your transformation from a dull, concrete giant to a captivating masterpiece, but more on that "glow up" later!*
Prepare to be mesmerized by a riot of colours, injecting personality into the streets, fostering connections and conversations. The perfect balance between bright and bold artwork sits side by side with our much-loved heritage structures.
Build a bridge, go under it.
As you leave the Pacific Highway and venture towards 
Yamba
, you will now be welcomed by four river sentinels adorning the Harwood Bridge pylons. Inspired by the 2022 floods, artist
 Al Stark
 has chosen these sentinels to stand as guardians over the mighty Clarence River. Showcasing how public art can represent history, reinforce connections, and weave tales for every passer-by. This flood-inspired masterpiece is an example of how locals transform challenges into character.
We hope as you drive past the sentinels, you soak up the power of their protection and enjoy a safe and happy Clarence Valley adventure.
A little further down the road, as you drive through Maclean, you'll find this extraordinary mural of widely respected Yaegl Elder Uncle Ron Heron adorning the Maclean pump station on River Street. Painted by artist Austin "NITSUA", this piece incorporates a warrior ochre—chosen by the Yaegl community—alongside a rainbow honey eater, a favourite feathered resident of the Clarence Valley and an indigenous sun symbol completes this amazing portrait of Uncle Ron.
And in case you're wondering, yes, the power poles lining the streets of Maclean ARE painted in tartan. Legend is this special paint is handmade by Loch Ness and flown over by dragon. All we know is this street art has brightened over 200 power poles for 20 years and will add a sprinkling of Scotland to your travels so make sure you check it out and try to find your name on the tartan map. 
The children have spoken
Crossing the river (fear not, there's a ferry for that!), you'll arrive in Lawrence, where mural artist Austin "Nitsua" collaborated with Lawrence Public School pupils to create a breathtaking water tower mural, deserving of a place on Australia's SILOART trail. 
It will come as no surprise that this artwork also draws inspiration from the Clarence River, whose flow courses through this tranquil township, its vibrant and powerful essence exuding from the mural. 
The children will one day share tales of their involvement in a historical moment as they recount their experiences to their own children. Here at My Clarence Valley, we adore these moments and treasure the opportunity to share them with you.
Perfect synchronicity – there is unity in diversity
Now, let us journey upriver, or down the region (we admit, it can be confusing!), where you'll discover an abundance of street art to captivate your senses in our heritage hub, Grafton.
Exploring the Grafton CBD will uncover a plethora of captivating artworks by both local talents and visiting artists. Notably, there is a mural by the esteemed Blak Douglas, the winner of the 2022 Archibald Prize, in collaboration with fellow artist Jason Wing, located beneath the Balun Bindarray Bridge.
Not one to be left out of the party, the heritage-listed "Bendy Bridge" is the backdrop to the Grafton Bridge Art Precinct.  This outdoor gallery evolves with time, fueled by the dedication of street artists and local projects that embrace various perspectives and inspirations.
Colourful and vibrant, the planter boxes along Prince Street now boast 30 distinctive artworks by local artists, sharing enchanting stories of Grafton and tales from the wider Clarence Valley, including the monumental flood of 2022.
Work by Al Stark is also featured at Grafton Library, where a mural inspired by deep Yaegl connections to plants, animals and place, is on display at the library carpark. Paying homage to Burugar Wagun (beach turkeys), Al was inspired by Dreamtime stories he was told while walking along the coastline and says…
Aww, our hearts. What's not to love about that?
Public art is a way to celebrate local culture and share the stories of our region. As a visitor, we hope you'll be inspired to keep your eyes peeled, imagination wild and heart full of My Clarence Valley moments, told by our very own Clarence Valley artists.
Come explore our painted paradise.