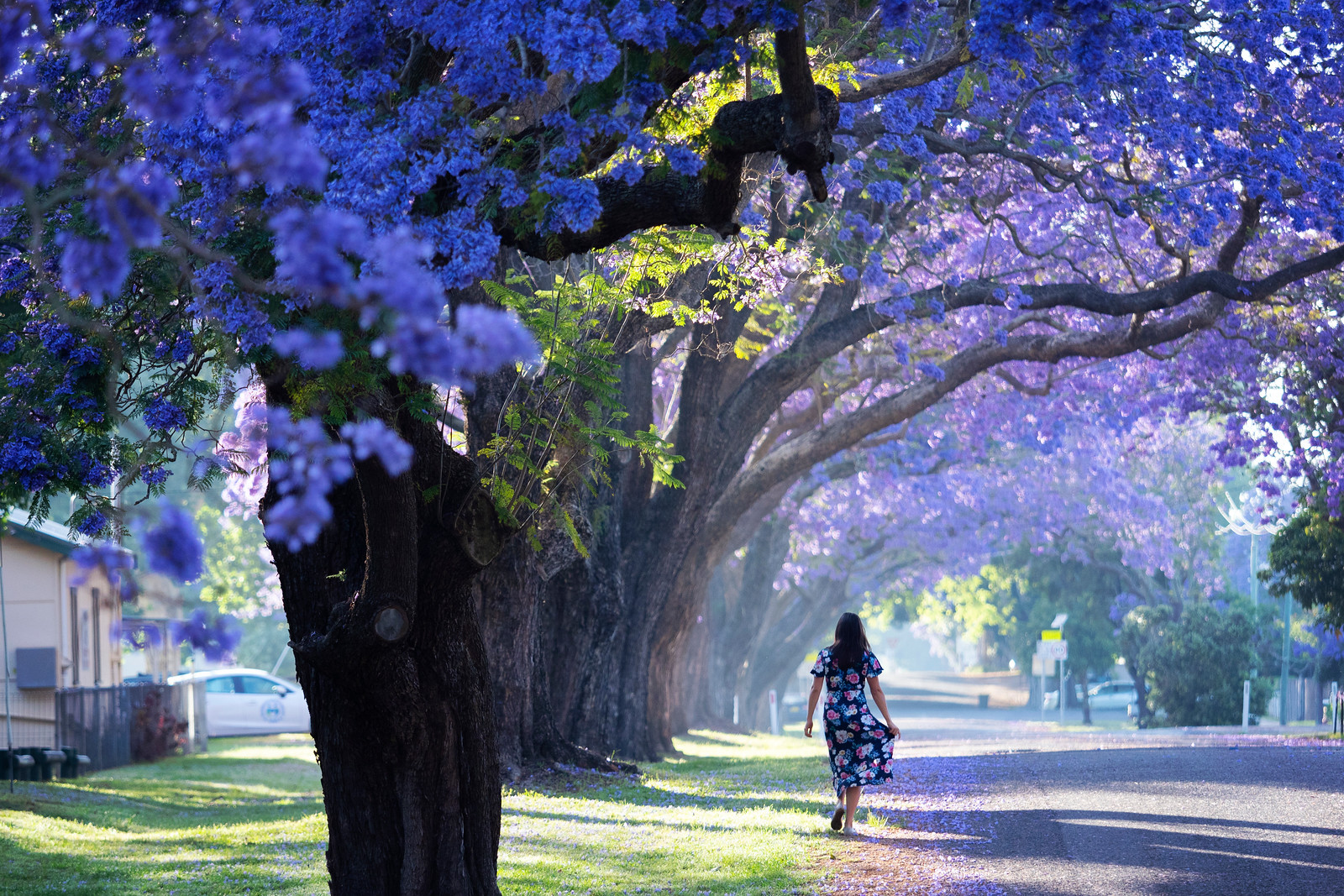 As I stroll under the magnificent purple canopy, the Jacaranda blossoms sway above me on the warm Spring breeze. The dainty blossoms fall all around like an enchanting snowfall. Delighted children try to catch the blossoms before they land on the grass (a somewhat difficult balancing act with purple ice cream in hand). Gatherings of couples and friends are sprawled out happily on picnic blankets beneath the trees, making the most of the Grafton Jacaranda Season.
But it's at night when the real magic happens. As the sun sets beyond this Clarence Valley heritage town, the lights turn on and Grafton's Jacaranda trees are illuminated at night. After an early dinner, I wander through the festivities and celebrations in See Park. The Jacaranda blossoms glow against the backdrop of the balmy night sky as people, young and old, smile with delight. If you could catch pure joy and put it in a bottle, I'm certain this is what it would look like.
From 20 October to 10 November each Spring, more than 1,700 Jacaranda trees explode into bloom in Grafton as nature showcases her annual display of colour. And with masses of trees along the streets and parks, it's easy to see why Grafton on the North Coast NSW has earned its reputation as the best place in Australia to see Jacarandas.
And it's all thanks to one Mr Volkers who started planting hundreds of Jacaranda trees as far back as 1879. Since then, people from near and far have fallen in love with their glorious colour. The
Grafton Jacaranda Festival
is the longest running floral festival in Australia. It's a celebration of retro fun with a program of live music, entertainment, decorated shopfronts, gorgeous open gardens, community parades and more. Everything in town turns purple in a time-honoured tribute to the Jacarandas. Think purple ice cream, freshly baked purple bread, and of course, purple hair.
I've always thought there's no better time to see the Jacarandas than just after sunrise, as the mist lifts to reveal an incredibly romantic sight. But this is now rivalled by the addition of Illuminate, where the blossoms in beautiful See Park are lit up until 10:30 pm every night over the Jacaranda Season. With the picturesque reflections on the lake, it's like a surreal dream of the best kind.
Grafton is a historic riverside town, and the Clarence River is nothing short of impressive. And the beauty is that it's so easy to travel around town to see the Jacarandas and capture photos with the help of the Jacaranda tree map. The best spots to see the trees are within a few minutes' drive from each other or an easy stroll or bicycle ride. And, like many country towns, the parking is free and plentiful.
The places to stay in Grafton and surrounding areas are plentiful too. From hotels and self-contained apartments to boutique heritage accommodations, riverfront rooms and rural farmstays. Or you can stay in Yamba, an easy one-hour drive away with its popular beaches and chilled coastal vibe. There's also the heritage riverside village of Ulmarra, just 15-minutes outside of Grafton. When it comes to dining, there's no shortage of places to eat across the region and you can take your pick from heritage pubs, to relaxed cafes and local restaurants.
Take a roadtrip through the villages and beyond to the pristine coastline or hinterland of the Clarence Valley. This is the home of the Bundjalung, Gumbaynggirr and Yaegl peoples who are the Traditional Custodians of this land. A visit to the Grafton Regional Gallery to see local First Nations artworks and the renowned Jacaranda Acquisitive Drawing Award exhibition is not to be missed.
Aside from the famous local celebrities (the Jacarandas), Grafton also has an abundance of other beautiful trees to admire including golden trumpet trees, tibouchinas, poincianas, silky oaks and giant figs. And if you're lucky you might spot the elusive white Jacaranda. Yes, it's a thing.
It's hard to put your finger on it, but there's just something about the Grafton Jacaranda Season that rejuvenates your spirit. Is it the joyful purple colour or the reassurance that nature is indeed beautiful despite everything that's been going on in the world? Maybe it's the sweet nostalgia of simpler times and the happiness found in authentic country town fun.
Either way, the Grafton Jacarandas have a magic and mystery of their own.
And to experience it all in full bloom, you'll just have to visit and see for yourself. Purple hair is optional, of course.
Share your Jacaranda photos and tag @MyClarenceValley and #graftonjacarandas
Written by: Justine McClymont
When to visit
The best time to see Grafton's Jacaranda Season is between 20 October to 10 November. To make the most of the Jacaranda Season, it's best to book a stay for a couple of nights. Mid-week is often quieter, so this can be a good option if you prefer to avoid the crowds.
How to get there
Grafton on the NSW North Coast is a two-and-a-half-hour drive from the Gold Coast or a seven-hour drive north of Sydney. Grafton is a one-hour drive from Coffs Harbour Airport and a one-and-a-half-hour drive from Ballina Byron Gateway Airport.